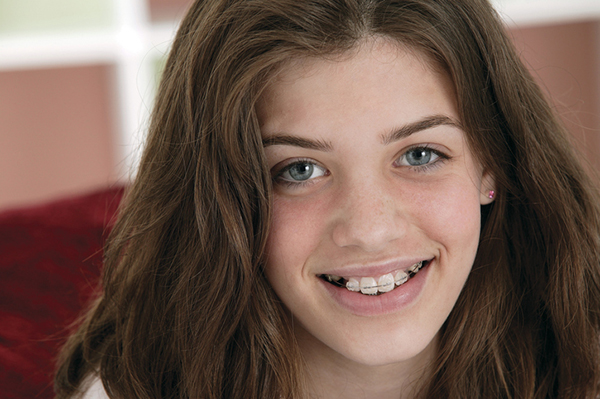 If you've ever had braces, chances are you're familiar with a retainer. Retainers are a common orthodontic appliance, especially among young people, and are often the final step in perfecting your pearly whites after braces are removed.
The most common purpose for a retainer is to help teeth stay in their new position after shifting from orthodontics or other dental work, but the appliance can also be worn to help close a gap between teeth or shift just a single tooth. They can even help correct jaw issues such as temporomandibular disorder (commonly known as TMD).
If you're instructed by your dental professional to wear a retainer, it is important that you follow their instructions closely. Your retainer will be custom fit to your mouth, and your dentist will tell you when and how long to wear it.  Since you and your retainer will be close friends, we wanted to share with you some ways to clean and protect your retainer!
Here are the best ways to take care and protect your retainer and ensure it stays in tip-top shape. We want your smile to shine for years to come!
Types of Retainers
Acrylic
The most common type of retainer, these are made of bendable wire and acrylic that is molded to fit perfectly inside your mouth. The wire goes across your front teeth to hold them in their new and improved position. These retainers are adjustable and are often available in a variety of colors and styles so you can have a little fun with them!
Clear Aligner / Retainer
This type of retainer is made of molded clear plastic and fits over your teeth. It is considerably less noticeable in your mouth than the metal retainer, which makes them popular with adults. Because this type of retainer fits over the top of your teeth, it does not always allow them to touch in a natural way.
Taking Care of Your Retainer
Your retainer essentially lives in your mouth along with plaque, bacteria and other not-so-clean things (e.g., leftover food particles), so it is important to take care of it daily. Here are some tips to keep your retainer fresh and clean.
Caring for Your Acrylic Retainer
1. It's a good idea to disinfect your acrylic retainer at least once a week. Soak it in distilled water with some baking soda or a drop or two of castile soap.
2. Rinse your appliance several times throughout the day with warm water to combat some of the bacteria that can start to build.
3. Baking soda is a great natural cleanser and helps increase the pH of your mouth. Mix equal parts baking soda and water until it forms a paste. With a toothbrush, gently scrub the retainer with the paste.
Keep this type of retainer away from dishwashers, toothpaste, boiling water and harsh cleaners or chemicals.
Caring for Your Clear Aligner / Retainer
4. Rinse your clear aligner thoroughly with warm water after removal.
5. Put a drop of dish soap on a soft bristle toothbrush and rub to work into a lather. Do not use toothpaste as it will scratch the material and cause it to become cloudy over time.
6. Gently clean the aligner inside and out with the toothbrush making sure to reach all the crevices.
7. Rinse the aligner thoroughly with warm water before reinserting. Do not place it in boiling water as the high heat could distort it.
To help prevent it from getting stained, do not eat while wearing your aligner.
General Ways to Protect Your Retainer
Your retainer's job is to protect your beautiful smile. But when it's off-the-clock, it becomes your job to protect your retainer!
8. Always keep your retainer in its case when not in use.
9. Don't clean it with abrasive cleansers (even abrasive toothpastes and some mouthwashes).
10. Keep away from the family pet — or any other four-legged creature!
11. Be mindful of where you place it when eating. You don't want to have to dig through the trash can.
12. Avoid storing it in your pocket where it could accidentally fall out unnoticed.
Have Other Questions About Your Retainer or Need to Schedule an Appointment?
Pointe Dental Group can provide you with a complete examination, answer your questions, and discuss your treatment options. Schedule an appointment with us today! New patients can receive FREE comprehensive exam and consultation, plus a full panoramic x-ray with a paid cleaning procedure (a $200 value)!
Grosse Pointe Farms: (313) 881-2480
Shelby Township: (586) 803-8300


Don't miss a thing! Connect with us on Facebook!