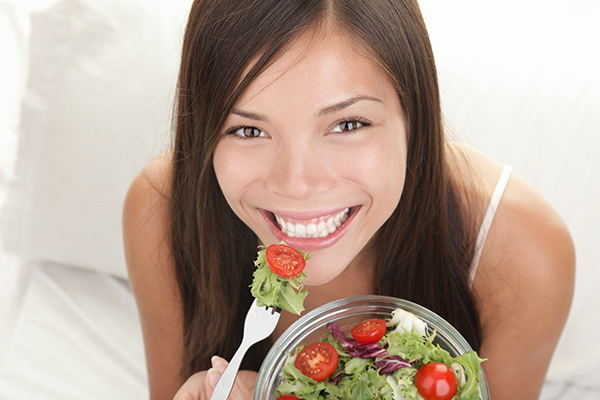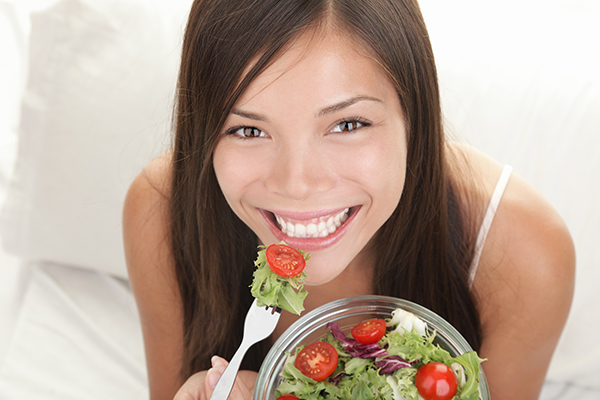 You only have one set of adult teeth, so it's important to take care of them.  But a flawless smile requires more than just regularly brushing and flossing – your diet plays a vital role too. While you may be familiar with what not to eat, do you know which foods have a positive effect on your dental health? Discover the best food for healthy gums and teeth to help you keep your confident smile for a lifetime.
How a Good Diet Contributes to Healthy Gums & Teeth
Just like any part of your body, your mouth requires certain minerals and vitamins to stay healthy. If your diet doesn't include an adequate amount, it weakens your gums and teeth, making it more likely for you to develop gum disease and periodontal disease. Making sure your diet contains all the vitamins and minerals needed to keep a healthy smile can be difficult. Certain foods also offer benefits to your overall oral health such as fighting bacteria and keeping your teeth clean. When you're planning to grab a quick snack, think about these healthy options.  They do more than just satisfy your hunger pangs.
Calcium Strengthens Your Teeth
Calcium is well-known to be important for dental health, particularly for your teeth. This mineral strengthens your protective tooth enamel, which is critical for preventing cavities. One common mistake is forgetting that calcium absorption is dependent on having adequate phosphorus in your diet! The two minerals work together as the building blocks of healthy teeth. Fortunately, many foods rich in calcium are also rich in phosphorus!
Best foods for Calcium: The most popular source of calcium is milk, but cheese and yogurt are also reliable sources of calcium. It often comes as a surprise to many, but broccoli and kale are rich in calcium. Keep in mind that some leafy greens are high in oxalic acid, which binds to calcium, reducing the amount of calcium you can absorb.
Keep Your Gums Healthy with Vitamin C
Vitamin C strengthens your mouth's soft tissue, such as your tongue, cheeks, lips and gums. It also helps protect you against gingivitis, which is an increasingly common early-stage gum disease that's preventable with proper care. Vitamin C deficiencies contribute to many common dental health issues from tooth sensitivity to receding gums and even plaque buildup!
Best foods for Vitamin C: Citrus fruits are the favorite when it comes to obtaining vitamin C, though you should be mindful about any citrus food because of their acidic nature. Drinking water after eating acidic food can help lessen the damage to your enamel. Kale is an effective alternative, with one cup of kale providing over 100% of your daily value of vitamin C! You can also add more broccoli, peppers, or strawberries to your diet.
Fight Bacteria with Foods Rich in Vitamin A
One of your mouth's best protections against bacteria and gingivitis is saliva, and vitamin A helps promote saliva production. By keeping the mucous membranes healthy and reducing the occurrence of dry mouth, vitamin A reduces your chance of gum disease and tooth decay significantly.
Best foods for Vitamin A: Sweet potatoes are a favorite for vitamin A, offering over 400% of your daily value per potato! Vegetables like carrots or leafy greens also contain a significant amount of vitamin A, typically filling your needed daily value in one serving.
Foods with Special Benefits to Dental Health
Finding good foods to promote healthy gums and teeth isn't always just about the direct nutrients! There are special foods and drinks that offer unique ways to improve your oral health:
Onions – Containing unique antibacterial compounds, eating onions can directly reduce the bacteria in your mouth that leads to decay. Their dental health potency is reduced when cooked, so try adding a bit to your salad.
Shiitake Mushrooms – The natural sugar lentinan in shiitake mushrooms can prevent plaque formation.
Raw Vegetables – Fresh vegetables like celery not only promote saliva product, but the act of chewing on these foods can help clean your teeth like brushing (though it's certainly no replacement for daily brushing and flossing!)
Green & Black Tea – Herbal teas contain polyphenol, an antioxidant that reduces plaque. Not only does this fight cavities or gum disease, it has the added benefit of reducing bad breath.
Do You Have Dental Care Questions?
Pointe Dental Group can provide you with a complete examination, answer your questions, and discuss your treatment options. Schedule an appointment with us today! New patients can receive FREE comprehensive exam and consultation, plus a full panoramic x-ray with a paid cleaning procedure (a $200 value)!
Grosse Pointe Farms: (313) 881-2480
Shelby Township: (586) 803-8300


Don't miss a thing! Connect with us on Facebook!