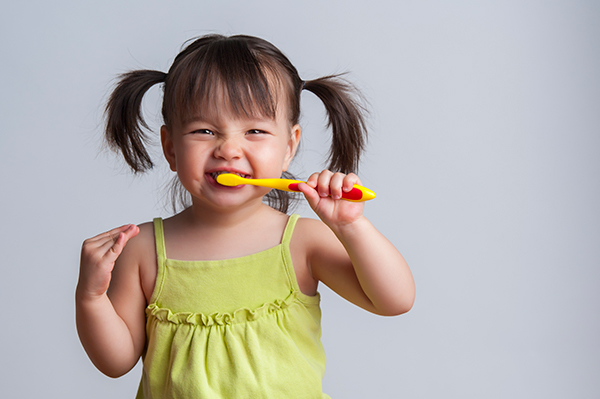 Your baby's first tooth is one of many anticipated childhood milestones. Beyond teaching them what not to bite into (like the back of your leg while you're washing dishes!), how can you help your child develop a healthy lifestyle of proper dental care? We'll answer some common questions about dental care for children to help your child develop a healthy smile that lasts a lifetime.
Do Infants Need to Visit the Dentist?
Yes! Schedule your first visit when they get their first tooth (or around age one, whichever is first). The first visit is generally a short one, but gives your baby a chance to become familiar with the dentist, the office and the routine exams. The dentist can evaluate their gums, bite, and answer any questions you may have. A lot of growth happens in the first few years and those baby teeth play an important part in eating, speaking and making room in your baby's mouth for permanent teeth. So it's never too early to start good dental care habits!
Should I Brush My Baby's Teeth?
Yes! You can even begin before their first tooth erupts by wiping their gums with a wet cloth. That way, your child will get used to caring for their mouth and teeth regularly. Once teeth begin to come in, spend time teaching them how to brush. Use a soft-bristled brush and gentle pressure. The earlier they learn good brushing habits the better their dental care will be.
Do I Need to Use Toothpaste?
Early on, you only need to use toothpaste if recommended by your dentist. Babies under two can't spit toothpaste out well, and it's not healthy to ingest. Children three and older can use a pea-sized amount of toothpaste. Helping them brush for two minutes morning and evening is recommended. There are even dental apps that can make brushing fun for your child.
Baby Teeth Aren't Permanent – Why Do I Need to Take Care Of Them?
Baby teeth are critical to the development of the jaw and mouth. Development of speech, smile and chewing are reliant on teeth and how they grow in. Additionally, as with any habit, the earlier you begin to develop a proper brushing and flossing routine, the more likely your child will be to care properly for permanent teeth. Dental care during a young age translates to dental health in adulthood.
Are Dental X-Rays Safe for Children?
Dental x-rays use a very small amount of radiation and are generally safe for anyone of any age – especially compared to other types of x-rays and incidental daily radiation exposure. X-rays help dentists diagnose disease and damage that may not be visible at checkups. The ADA states that, "Radiation exposure associated with dentistry represents a minor contribution to the total exposure from all sources, including natural and man-made."
If you have further questions about dental x-rays, the dentists are Pointe Dental Group will be happy to discuss them with you.
How Can I Protect My Children's Teeth During Athletics?
Children of all ages should wear custom-fitted mouth guards for any athletics. This applies even for non-contact sports, due to falls or accidental contact. Since 2009, the ADA has recognized mouth guards as an important part of safety and oral health, especially to help reduce dental sports-related injuries.
Is It True that Thumb Sucking is Bad for a Child's Teeth?
Sucking on thumbs, fingers, pacifiers…and many times anything they can put in their mouth…is a natural reflex for children. It may also help a child calm down and fall asleep. However, after permanent teeth come in, thumb sucking can impact teeth alignment, growth and the roof of their mouth. For this reason, it is important to discourage this behavior, particularly in older children. According to the ADA, aggressive thumb suckers may develop problems with their baby teeth. Pacifiers can have the same effect as sucking on fingers or thumbs; however they may be an easier habit to break.
Children usually stop sucking their thumb between the ages of two and four. If you have concerns about your child's thumb sucking, talk to your dentist.
Do You Need Dental Care for Your Family? Schedule an Appointment!
Pointe Dental Group can provide you with a complete examination, answer your questions, and discuss your options. Schedule an appointment with us today! New patients can receive FREE comprehensive exam and consultation, plus a full panoramic x-ray with a paid cleaning procedure (a $200 value)!
Grosse Pointe Farms: (313) 881-2480
Shelby Township: (586) 803-8300

Don't miss a thing! Connect with us on Facebook!