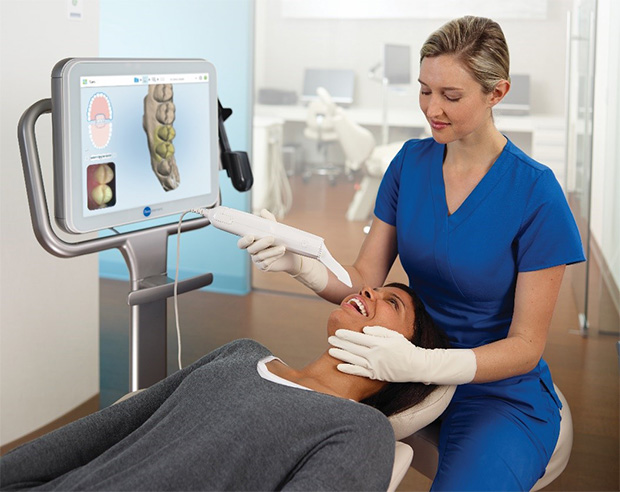 The dreaded dental impression – getting one used to be awkward, messy, even downright unpleasant for many patients. But thanks to modern technology, digital mouth scanners have made creating dental impressions easier than brushing your teeth.
Creating a dental impression is the first step for several dental procedures, such as fitting a patient for braces or for dental restoration work, such as dentures, bridges, crowns. The impression is used as a mold, ensuring that the new appliances fit seamlessly with the patient's teeth.
The old process of taking impressions involved filling a dental tray with alginate – a thick putty-like substance that's made from seaweed. Patients bite down on the alginate, which hardens into a flexible mold around their bite within a few minutes. The finished mold is then used to fashion the dental appliance. But as you'd expect, alginate is not known for its superb taste. And if you have a sensitive gag reflex, the process of having an alginate impression made can be uncomfortable, to say the least.
But impressionless dental mouth scanners – small, handheld scanning devices made specifically for dental applications – have completely changed the process of dental impressions.
Impressionless Digital Mouth Scanners Make a Great Impression with Patients
Impressionless scanners – scanners which rely on lasers and digital imaging to produce 3D renderings of patients' teeth – have eliminated the need for messy traditional dental impressions.
The process for getting an impressionless scan is simple and similar to what a patient experiences during a typical dental exam. While the patient is seated in the exam chair, the dentist rolls up a computer monitor with an attached laser scanning device, which is slightly bigger than an electric toothbrush. The dentist moves the tip of the scanner over the surfaces of the teeth and the computer renders a 3D image on the computer screen. During the process, the patient can breathe, swallow, and talk just as they would during a regular dental exam.
This image is sent to a laboratory which makes the desired dental appliance. For our patients having a CEREC crown or a bridge made, the appliance may be milled right at the office and placed the same day!
Not only are impressionless scans are far less messy and uncomfortable than traditional alginate molds, they're:
Quicker – Finished scans are ready in minutes; appointments for this procedure take 50% less time than with traditional methods.
More Accurate – A study by Invisalign® showed that patients fitted with their orthodontics using impressionless scans had 7 times fewer fitting problems, drastically cutting down the need for "remakes."
Radiation Free – Impressionless scanners use laser technology for dental mapping – no x-rays needed!
Preview the Results – Computer software can show you an image of how your teeth will look after treatment.
All of these benefits add up to relaxed and pleasant patient experience, which is our goal with every appointment.
Pointe Dental Group Offers Impressionless Digital Mouth Scanners at Both Offices
At our Grosse Pointe Farms office, we offer the iTero® Intraoral Scanner; at our Shelby Township Office, we use the Trios® Digital Impression system.
Want to know more about impressionless scanners and our other services?
Pointe Dental Group can provide you with a complete examination, answer your questions, and discuss your treatment options. Schedule an appointment with us today! New patients can receive FREE comprehensive exam and consultation, plus a full panoramic x-ray with a paid cleaning procedure (a $200 value)!
Grosse Pointe Farms: (313) 881-2480
Shelby Township: (586) 803-8300


Don't miss a thing! Connect with us on Facebook!