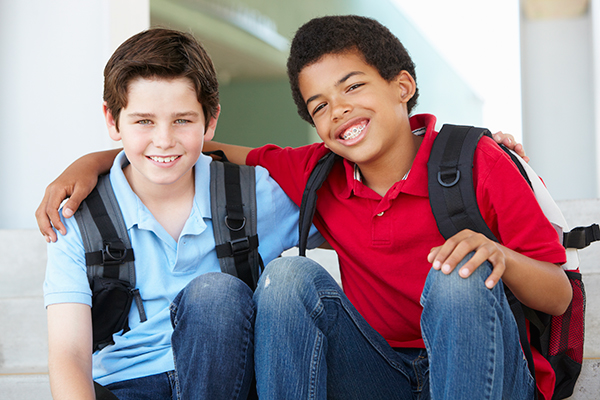 Orthodontic treatment is often considered a way to correct issues with tooth alignment and bites. But its real power is in preventing those issues from developing in the first place! It all depends on when you get braces. But what is the best time for braces? And if your child needs orthodontic treatment, when is the best time to have them get their braces to minimize stress with starting this journey towards improved dental health?
Read on to learn more about the best age and time of year to get braces for your child.
What's the Best Age for a Child to Get Braces?
Orthodontic issues are treatable at nearly any age. It's why adults with braces are more common every day! But most orthodontic issues arise during early development in a person's life, and those developments affect them for the rest of their life.
The best time for braces in someone's life is around the early childhood ages, between 8-11 years old. This helps guarantee all their permanent teeth have erupted while still allowing time to correct developing issues with the jaw or teeth.
However, some children can be good candidates for two-phase orthodontics, which can begin as early as age six or seven! In two-phase orthodontics, treatment is started early to intercept problems your child's orthodontist identified before they can begin to cause problems. Orthodontic issues like overcrowding, misalignment or crooked teeth are often caught during early orthodontic appointments and treatable before causing problems.
When is the Best Time of Year for My Child's Braces?
If your child has been diagnosed with an orthodontic issue that requires braces, you may be wondering if there's a best time for their treatment to start. While the best time is typically "as soon as possible," you can sometimes delay braces if it's nearing the summertime, which is often considered the best time for braces.
No School Helps Your Child Adjust
Starting any orthodontic treatment requires time to adjust. Whether using Invisalign, traditional metal braces or any other types of braces, they can feel awkward at first! You can avoid combining the stress of school and braces by giving them plenty of time to adjust over the summer months.
It doesn't take long for children to acclimate to their new braces. After a few weeks in the summer, they'll be experts at taking care of their braces and avoiding foods or behavior that could damage their teeth, brackets or wires. When the new school year comes around, they'll have one less thing to worry about.
Fewer Extracurricular Activities
Another benefit of the summer months is the lack of extracurricular activities and fewer organized sports. While your son or daughter will be out and about with their friends, they're less likely to be participating in football, basketball or band – activities that require special attention to their orthodontic appliances.
Orthodontic mouthguards do exist, and it's certainly possible to play a musical instrument with braces. However, like general school life, it will be easier for your child to adjust when they're not also dealing with concerns about starting orthodontic treatment at the same time.
Better Control Over Their Diet
While it's true that you can pack their lunch, many families opt to let their children buy school lunches. Additionally, schools often have vending machines that allow students to purchase a quick snack between classes or as a treat during lunchtime.
Over the summer, when your kids are home for meals, you have a lot more control over their diet. You can play a role to help them avoid foods that are bad for braces.

Keep Your Smile Healthy
We want to help you maintain good oral health and a beautiful smile. Regular teeth cleaning and dental check-ups are an important part of your routine, just like brushing and flossing. Schedule an appointment with us or call and take the first step toward keeping your smile radiant.
Grosse Pointe Farms: (313) 881-2480
Shelby Township: (586) 803-8300
Don't miss a thing! Connect with us on Facebook!