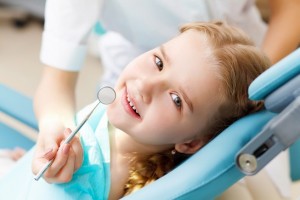 Dread going to the dentist with your kids? We understand! Kids can be intimidated or frightened by dental visits, especially if they have cavities. Thankfully, it doesn't have to be so hard to get your kid to the dentist. We've found that a simple explanation goes a long way with most children, and helps them feel comfortable visiting Pointe Dentistry.
In fact, we've put together a guide just for parents. Here you'll find lots of helpful information to help your child understand what cavities are, how they're fixed, and how to prevent cavities from forming.
What is a Cavity?
Cavities are holes in your teeth that can grow bigger if they aren't fixed. These holes are caused by germs that can stick to your teeth and create plaque, which is a sticky substance that causes tooth decay. When there is too much of this slimy plaque on your teeth, it causes the acids in your mouth to eat away at the outer protective layer of your teeth, which is where the cavities develop. If you don't get your cavities fixed, they can become worse and cause you pain.
How a Cavity is Fixed
If you end up with a cavity, your dentist at Pointe Dental can fix it for you! The first thing we'll do is carefully examine your teeth. Next, if necessary, we'll take x-rays to see find the cavity and to see how deep it goes.
Next, we'll fix the cavity! How do we do that? We very gently remove the bad parts with a special dental drill. Then we create a filling. A filling is created from a special material which is placed into the newly cleaned hole.
What about pain? Filling a cavity can be slightly painful, but we offer anesthetic to numb the area, so you won't feel anything. If you'd like to discuss our pain-free dental options, just give us a call!
How to Prevent Cavities
Even though we fix cavities easily, the best thing you can do for your mouth is to prevent cavities from developing in the first place! Follow these tips for a cavity-free smile:
Brush your teeth twice a day – especially before bed
Brush up and down and in a circular motion
Brush your gums gently to keep them healthy
Floss once a day to get rid of food stuck between teeth
Don't eat too many sweets
Stay away from sugary drinks like soda
See your dentist two times every year for a cleaning
We understand that some children are just not comfortable going to the dentist, and it's worse when cavities are involved! However, information goes a long way. Many children respond very well to a simple explanation of what will happen when they visit Pointe Dental.
If your child is especially afraid of dental work, please give us a call! We'll set up a special appointment to walk her through the whole process in person.
About Pointe Dental
Have a question about your child's dental health? Pointe Dental Group is here to help! Contact us at either of our convenient locations:
Locations
Grosse Pointe Farms
18342 Mack Avenue
Grosse Pointe Farms, MI 48236
(313) 881-2480
Shelby Township
50505 Schoenherr Rd # 170
Shelby Township, MI 48315
(586) 803-8300


Services
Dental Services
Orthodontics
Sleep Apnea
Periodontics
Connect with Us!
Facebook
Twitter
Google +: Grosse Pointe | Shelby Twp