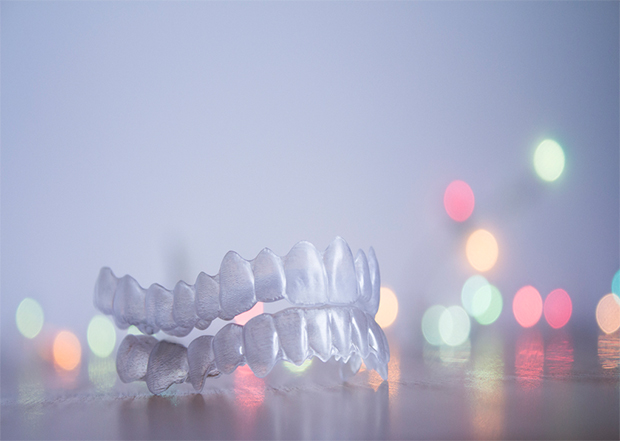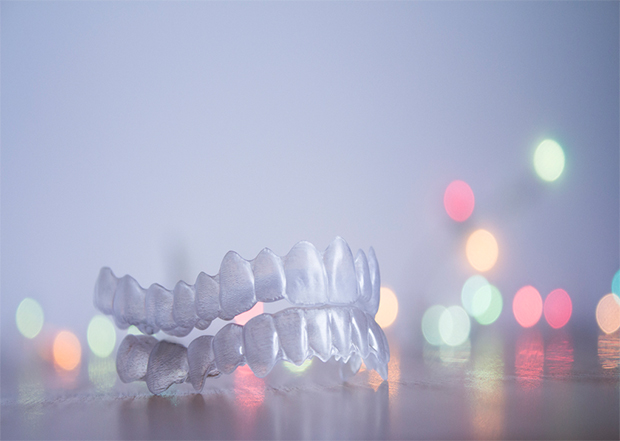 Not so long ago, there was only one real option to straighten teeth: metal braces. If you wanted that perfect smile, your teeth had to hide under a layer corrective metal for a while. But times have changed and so have your orthodontic options. Today, you can subtly straighten your smile and avoid a brace-y grin, thanks to the following 3 alternatives to braces.
1. Clear Aligners
With a clear aligner, no one will notice your braces – all they'll see is your smile. Clear aligners are a great choice for both teens and adults, especially those who enjoy rough-and-tumble sports. They're relatively new orthodontic treatments, usually involving a series of 18-30 custom-made, clear plastic aligners to guide teeth into proper position. The aligners are removable and are replaced every 2 weeks.
The nearly-invisible look of clear aligners has made them extremely popular. But beyond their aesthetic appeal, clear aligners have other benefits. Since they're removable, they don't interfere with eating or speaking. Plus, they're less likely than traditional-style braces to irritate the soft tissue surrounding teeth. They can even be used as a bite guard to prevent damage caused by bruxism, or tooth grinding.
Clear aligners aren't the solution for everyone, however. They work best for patients with relatively mild cases of crooked or protruding teeth, gaps, or over/underbites. More complex orthodontic issues, like rotating or moving teeth vertically, are more effectively treated with traditional braces. Also, if you don't have the discipline to wear an alignment tray for up to 22 hours a day, you should opt for a different kind of treatment. Learn more about the pros and cons of clear aligners and traditional braces in our recent blog.
2. Esthetic Clear Braces
Do you need the power of traditional braces, yet want a bit less metal in your smile? Consider esthetic clear ceramic braces! Commonly known as ceramic dental braces or tooth-colored dental braces, esthetic clear braces are the same size and shape as metal braces, but they have tooth-colored or clear brackets that blend in with your teeth. (Tooth-colored wires are an option also to make them even less noticeable.)
Esthetic clear braces work with simple or complex tooth alignment issues – even back-tooth bite problems, rotation of canines or premolars, or vertical tooth movement. They're similar in most aspects to wearing traditional braces, but expect to pay more for them versus the traditional kind.
3. Cosmetic Ceramic Veneers
Another approach to perfecting a smile without traditional braces uses cosmetic veneers. Veneers are thin laminates that bond directly to the surface of a tooth. They're often used to alter the color of your teeth, close a space, "even out" mildly misaligned teeth, or repair a cracked tooth. The obvious big "pluses" of cosmetic ceramic veneers is that you can avoid wearing braces altogether and achieve your desired smile in a relatively short amount of time. But there are some notable drawbacks. Veneers won't change the actual position of your teeth; moderate to severe malocclusion requires repositioning, which almost always mandates braces. And unlike braces, the effect you'll get with veneers probably won't last a lifetime – veneers typically last 5-10 years, so you'll have replacement costs in addition to the initial cost.
What's the Best Option?
Only you and your dentist can decide which of the 3 alternatives to braces is best for you.
We are proud of our commitment to our patients and our ability to produce beautiful, healthy smiles in a caring, patient-oriented environment. If you would like to learn more about your options, you can request a consultation online or give us a call at one of our two orthodontic locations in Michigan:
Grosse Pointe Farms: (313) 881-2480 | Shelby Township: (586) 803-8300


Questions About Orthodontics? We have Answers!
For more information about orthodontics and the alternatives to braces, please check out the following resources:
Don't miss a thing! Connect with us on Facebook.