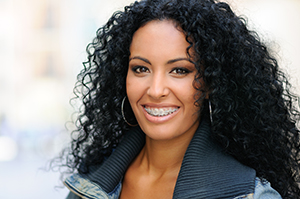 Against popular belief, braces aren't just for kids and teens. In fact, according to Delta Dental, approximately one million American adults wear braces! Many of our adult patients had braces as a child, but forgot to wear their retainer. Others never had braces to begin with and are now ready to take care of their smile insecurities once and for all.
If you're concerned about the alignment of your teeth, don't be put-off by the thought of seeing an orthodontist. We understand that adults often feel embarrassed and nervous about having braces, however we have good news! Technologies have come a long way since the days of bulky, highly noticeable metal braces from your childhood. Here's a look at some of our most popular braces for adults:
Braces for Adults
High Tech Metal Braces – You are probably most familiar with classic metal braces – however these braces have undergone some notable technological advances in recent years. Today's metal braces are smaller, use fewer brackets, and use thinner, more effective wires. Though metal is still the most efficient bracket material, brackets are also available in tooth-colored ceramic and clear plastic. Additionally, bands are available in neutral colors to minimize the appearance of the braces.
Clear Aligner Therapy – With clear aligner therapy, patients can straighten their teeth with an easy-to-use, removable plastic tray. A series of trays are prepared by your orthodontist to progressively shift your teeth into their ideal positions. Clear aligner therapy one of our most popular orthodontic treatments for adults.
Mini Orthodontic Implants – Pointe Dental Group offers mini orthodontic implants, also known as temporary anchorage devices (TADs) to assist in orthodontic treatment. In some cases, TADs are inserted into a patient's gums and bone to act as an anchor for orthodontic applications. TADS are especially helpful for patients with missing teeth.
If you were to get braces as an adult, which kind would you be most interested in? We'd love to hear your thoughts in the comments section!
Orthodontics in Michigan
We are proud of our commitment to our patients and our ability to produce beautiful, healthy smiles in a caring, patient-oriented environment. If you would like to learn more about your options, you can request a consultation online or give us a call at one of our two orthodontic locations in Michigan:
Grosse Pointe Farms: (313) 881-2480 | Shelby Township: (586) 803-8300

Questions About Orthodontics? We have Answers!
For more information about orthodontics and braces for adults, please check out the following resources:
Connect with Us on Social Media!