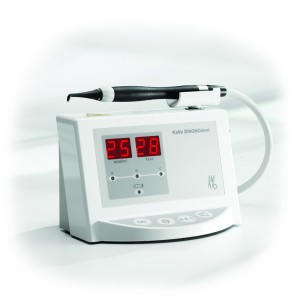 Catching a cavity in its earliest stages is the best way to avoid major dental work and save your natural tooth. However, the easy detection of very small cavities has always been a challenge in the world of dentistry. Larger, more serious cavities can easily be found with an x-ray, but until recently, identifying tiny cavities has been a challenge. That is all changing now thanks to the new KaVo DIAGNOdent, an amazing new laser system that can find even the smallest cavity.
What is KaVo DIAGNOdent?
Created by KaVo, an industry leader in technological advances in dentistry, DIAGNOdent is an innovative portable laser system that employs lasers to find and illuminate very small cavities that are in the very beginning stage of formation. Although relatively new to the market, DIAGNOdent has already received rave reviews from leading testing facilities around the world and Pointe Dental Group is excited to bring this new system to you.
How it Works
Operating at a wavelength of 655 nm, the DIAGNOdent uses florescence to illuminate the altered tooth surfaces or bacteria buildup that are the markers of early stage cavities. The amount of florescence that is seen correlates directly to the size of the cavity, which gives your dentist an accurate picture of exactly what is going on in your mouth. The DIAGNOdent is also small and easily portable, which makes it far less cumbersome to use than x-ray machines, and comes with an optional RONDOflex air abrasion hand piece that makes cavity treatment possible right at the same time.
Benefits of KaVo DIAGNOdent
DIAGNOdent takes the guesswork out of early cavity detection, which makes giving you the healthiest, brightest smile possible that much easier. Other benefits of the DIAGNOdent include:
90% accuracy in cavity detection
Easy monitoring of cavity progression with precision and reliability
High level of patient satisfaction
Works seamlessly with other minimally invasive techniques such as air abrasion
Easy to move and easy to operate
Eliminates the need for potentially painful exploratory examination of teeth
Limits the need for x-ray exposure
Pointe Dental Group is thrilled to have this exciting new technology available to us! We are dedicated to providing you with the very best dental care available and feel confident that you will love the DIAGNOdent system as much as we do!
About Pointe Dental Group
Have questions about our new KaVo DIAGNOdent system? Pointe Dental Group is happy to answer them! Contact us at either of our convenient locations:
Grosse Pointe Farms
18342 Mack Avenue
Grosse Pointe Farms, MI 48236
(313) 881-2480
Shelby Township
50505 Schoenherr Rd # 170
Shelby Township, MI 48315
(586) 803-8300


Services:
Dental Services
Orthodontics
Sleep Apnea
Periodontics
Connect with Us!
Facebook
Twitter
Google +: Grosse Pointe | Shelby Twp