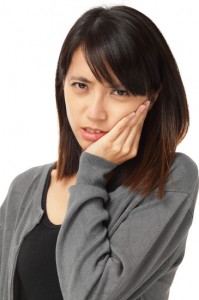 If you've ever had a canker sore, you know what a pain it can be – both literally and figuratively. Canker sores make it difficult to eat, drink, and talk, and can cause acute discomfort in the area of affliction. Our dentists at Pointe Dental Group have put together some helpful information about treating canker sores and how you can prevent them from occurring.
What are canker sores?
A canker sore is a pesky, painful lesion/ulcer on the inside of the mouth. It's not entirely known what causes canker sores, however they often develop following a small injury within the mouth, such as biting the inside of your cheek, or cutting your gums with a tortilla chip. The pain from canker sores is worsened by eating citrusy and spicy foods.
So who's at risk to get canker sores? Anyone can get a canker sore, however they tend to occur more often in people who are frequently stressed, have poor diets, are female, or are genetically disposed.
Treatment/Remedies
Most canker sores naturally heal within 1-2 weeks, but in the meantime, here are a few tips to help you treat your canker sore:
Pick up an antiseptic creams or mouthwash at your local drugstore. These products are designed specifically to ease canker sore pain and speed up the healing process. You can also craft your own concoction by combining 1 teaspoon of salt, 1 teaspoon of baking soda, and 2 ounces of hydrogen peroxide.
Ice and aspirin don't necessarily help to heal canker sores; however they're great tools to help numb the sores.
If your canker sore has been bothering you for longer than two weeks, it's probably a good idea to check in with your dentist at Pointe Dental. Usually, a canker sore is a just a nuisance, but if it never heals, it could be a sign of oral cancer.
Prevention
If you're prone to frequent canker sores, whether it's because of genetics, or just bad luck, there are a few ways that you can help to prevent them occurring quite so often:
Eat your fruits and veggies – maintaining a healthy diet will help your body get the necessary vitamins and minerals to prevent frequent canker sores.
Relax – stress is a potential cause of canker sores and a wide range of other health problems. Make sure to leave yourself enough time each day to sit back, relax, and clear your mind.
Check for allergies or other illnesses – if you've noticed canker sores popping up after eating a specific food, it may be worth it to cut that food from your diet for a while to see if that helps. If that doesn't work, check with your doctor to see if you have any underlying illnesses that could be causing the frequent canker sores.
Keep your mouth clean – be sure to brush and floss your teeth on a regular basis. Canker sores will be less likely to occur if you amp up your dental hygiene.
About Pointe Dental Group
Pointe Dental Group offers comprehensive dental services including general dentistry, cosmetic dentistry, orthodontics, sleep apnea treatment, periodontics, and more. Pointe has two locations in Southeast Michigan in Grosse Pointe Farms and Shelby Township. Contact us today to set up an appointment!
Grosse Pointe Farms: (313) 881-2480
Shelby Township: (586) 803-8300

Connect with Us!
Facebook
Twitter
Google +: Grosse Pointe | Shelby Twp