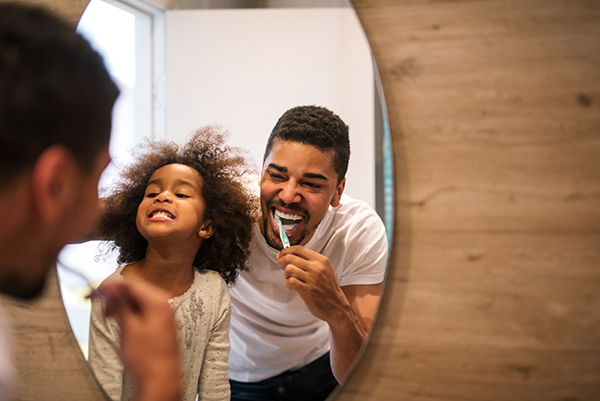 A lifetime of strong teeth and dental health starts with good habits as a child. But brushing your teeth can be a challenge when you aren't sure how or even why it's important! Teaching dental care to your children is a core part of parenting. Start them off with great dental habits and they can enjoy a cavity-free life!
If you're a parent and worried about your child's oral health, we're here to help! Read on to learn tips for teaching your children how to brush and making it easier to keep them on track with dental hygiene.
Teach Brushing Habits Early
When teaching dental care to children, the best thing you can do is start early. From the moment their first tooth comes in, you can start building a system for brushing their teeth. Use a very soft brush (or even a soft cloth) to gently wipe their teeth.
As they age to about a year and a half, you can start incorporating a small amount of toothpaste. Look for children's toothpaste that doesn't contain fluoride, as there is a risk from ingesting too much fluoride. Use this opportunity to get them familiar with brushing and encourage them to spit the toothpaste out instead of swallowing it.
While baby teeth aren't permanent, they're still important to brush! Bacteria in a child's mouth can leave them susceptible to gum disease and decay. It's also a great time to familiarize them with a routine of brushing in the morning and the evening. The earlier they start a dental care routine, the easier it will be to get them to continue brushing and flossing as they age.
Start with the Basics
After decades of brushing your teeth, you may think of it as second nature. But without proper instruction, children may develop bad brushing habits. When teaching dental care to your child, make sure to focus on the basics:
Holding the Brush – Most people are likely to start by holding the brush straight to their teeth. However, they should hold the brush at a slight angle from the gums. This lets the bristles fully cover the teeth during brushing.
Using Short Strokes – Show them how to brush in quick back-and-forth motions, slowly transitioning the brush across the row of teeth to ensure every tooth has a few seconds of thorough cleaning. You want to avoid going too fast to properly clean teeth, but also too slow where you may over-brush and wear down their enamel!
Don't Forget the Gums – Cleaning bacteria from their gums is critical, especially as children often drink sugary drinks that leave their mouth vulnerable to bacterial growth. Proper gum care is easier when it's regular; if you allow gum disease to set in, children may experience pain and be less likely to keep brushing their gums.
Don't Forget the Backs – Because we see the front sides of our children's teeth, it's easy to spot when they're not brushing enough. But the rear side of their teeth is just as vulnerable to decay!
Tongue Brushing – Bacteria also grows on their tongue. Incorporate tongue brushing (either with the toothbrush or a separate tongue scraper) early to avoid surprise cavities and gum disease!
Always Brush & Floss as a Team
When teaching dental care, it's important to follow your own instructions. If your children don't see you taking the time to brush twice a day for a full two minutes, why should they? When you start, you'll be right alongside them brushing and flossing to help guide them. And there's no reason to stop!
As they age up to their teens, if you keep brushing as a family event, you're all more likely to practice good habits. Working together gives you both accountability and support through something that will be of the utmost importance to their long-term health.
Keep brushing together as part of your morning and bedtime routines. It's okay if you can't do it every day – but making an effort to work together will improve your whole family's oral health
Try Apps to Make Brushing Fun
It's fair to say that brushing your teeth isn't the most exciting thing. Especially for children, it can be hard to explain the importance of long-term dental care. Instead of treating it like a chore, you may be able to find a way to treat it more like a fun activity!
Apps for children's dental care exist and cover a wide range of functionalities. The most important of which is a timer to help them brush for the full two minutes as recommended by dentists. These apps can also feature music, games and scoring systems that encourage them to brush every day by rewarding them as they track their toothbrushing in the app.
Use Less Toothpaste for Children
Fluoride is good for your teeth, but it's not healthy if ingested. Small amounts of fluoride aren't likely to cause concern, but fluorosis is a possibility if your child swallows too much. When they're first learning how to brush properly, it's typical for them to swallow toothpaste instead of spitting it out.
Make sure when they brush that they're spitting the toothpaste out instead of swallowing. If they're having trouble remembering, try using smaller amounts of toothpaste to help them avoid ingesting too much.
A Healthy Smile Leads to a Healthy Body
We want to help you maintain good oral health and a beautiful smile. Regular teeth cleaning and dental check-ups are an important part of your routine, just like brushing and flossing. Schedule an appointment with us or call and take the first step toward keeping your smile radiant.
Grosse Pointe Farms: (313) 881-2480
Shelby Township: (586) 803-8300

Don't miss a thing! Connect with us on Facebook!