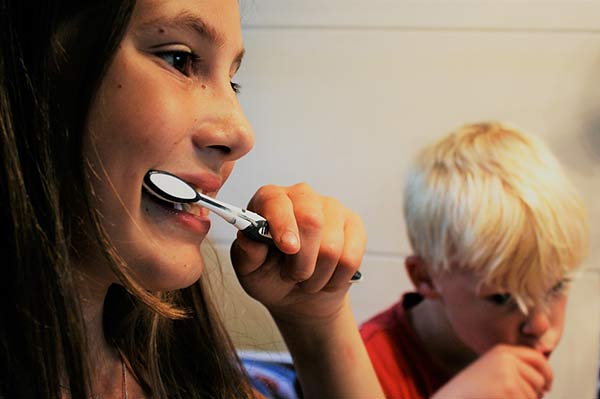 We all spend a lot of time on our smartphones today. You know how to use them to call, text, and even play games… but did you know you could use them to improve the oral health of your family? There are some great dental apps available, both free and paid, that offer you useful information or utilities – not to mention fun!
We've compiled a list of our five favorite dental apps available today! In addition to apps for braces, this list also includes some general dental apps that are great for anyone.
Dental Apps for Braces
#1. BracesHelp
Whether you or a family member is currently wearing braces or you're considering getting braces in the near future, BracesHelp is a great app to have on your device. This app is packed with information, including pictures and videos that help you properly care for your braces. One great feature for the more style-conscious kids out there is the color braces visualizer. It even has helpful details for what to do if you run into problems with your braces!
BracesHelp is available on iTunes only.
#2. Rubberband Reminder
If you're currently wearing braces, you've likely been reminded a few times to wear your rubber bands! Successful orthodontic treatment relies a lot on these rubber bands, so it's critical that you remember to wear them as you need to.
But we're all human, and it's easy to forget – that's why Rubberband Reminder is so useful! This is a great dental app that sends you alerts to help remind you to wear your rubberbands. Or you can use the additional "Challenge mode" that periodically throughout the day will ask if you're wearing them. All your responses will be tracked in a graph.
Learn more about Rubberband Reminder for iPhone or Android:
Rubberband Reminder on iTunes (No Longer Available)
General Dental Apps for All
#3. Brush DJ
This award-winning app is the trick to making sure you and your family are brushing your teeth for the correct amount of time – in a fun way! Instead of simply timing your brushing, Brush DJ is a timer that plays two minutes of music to let you or your kids enjoy some music and guarantee they don't brush too quickly or for too long. The best part? You get to pick the music!
But that's not all! Brush DJ also has the ability to remind you to brush twice a day, as well as floss and use mouthwash. It even reminds you when to next visit your dentist or orthodontist!
Brush DJ is available on both iTunes and the Google Play store. Check out their website to find out more about Brush DJ.
#4. Toothsavers Brushing Game
Toothsavers is a great way to get your kids excited about brushing their teeth. Developed to turn brushing teeth into a game, Toothsavers introduces your children into a magical world where they must help the people save their teeth from cavities and rot through proper brushing technique.
Not only does Toothsavers give your kids a fun game to play that keeps brushing their teeth fresh on their mind, it can also track daily brushing times and monitor their brushing progress on a calendar. Consistent brushing over time unlocks new characters, so your kids have a good motivator to keep going!
Toothersavers is available on both iTunes and the Google Play store.
#5. Dental Phobia
It doesn't matter how old you are, many people out there still have anxiety about visiting the dentist. Much of this anxiety comes from not understanding the ins and outs of dental procedures and information. Fortunately, Dental Phobia is here to help you find out what you need to know!
Featuring a mountain of information for everything from sedation to dental procedure information, this dental app will make you feel much more comfortable entering the dentist office. It's a great app for kids and adults!
Dental Phobia is available only on iTunes.
Give Your Teeth the Attention They Deserve!
While smartphone apps and games are great, it's important to give your teeth the professional care they need. Pointe Dental Group can provide you with a complete examination, answer any questions you may have, and discuss treatment options. Schedule your appointment with us today!
New patients can receive a FREE comprehensive exam and consultation, plus a panoramic x-ray with paid cleaning procedure (a $200 value!)
Grosse Pointe Farms: (313) 881-2480
Shelby Township: (586) 803-8300

Don't miss a thing! Connect with us on Facebook!