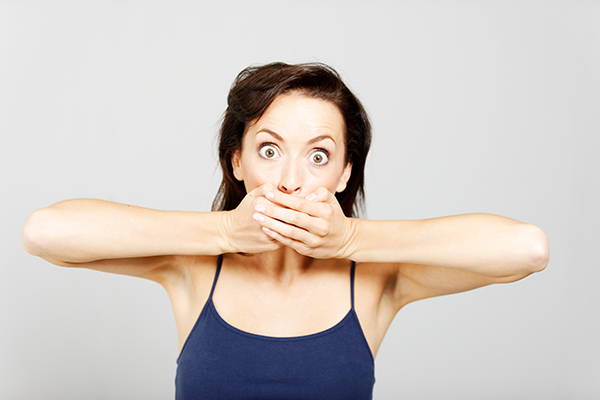 Do-it-yourself, known as DIY, is the way of many things. Home improvement, fashion and more! But one thing that should never be DIY? Braces! Orthodontic treatment is a delicate process that requires many years of study, practice and experience to oversee. That's why it's important that you understand the dangers of DIY braces and clear aligners – a concerning trend that's growing in popularity.
What Are DIY Braces?
Just as the name implies, DIY braces are a type of homemade dental brace designed to shift the position of your teeth. They can be made of many things – though usually they're as simple as elastic hair bands wrapped around the teeth.
Another major trend happening right is the rise of companies selling clear aligners direct to you over the Internet. You may have even seen their ads on TV! These companies claim to produce clear aligners that are designed uniquely for you, without the need to see an orthodontist.
DIY braces or clear aligners can emulate one primary function of braces: they will move your teeth. The problem lies in how they move them, the rate at which your teeth are moved and the results of attempting to adjust your teeth without the proper knowledge.
What Started the DIY Braces Trend?
Like most unusual and dangerous medical trends, DIY braces spread through the internet. Largely shared on social media and through blogs, teenagers attempted to solve perceived dental problems on their own.
Because the idea was passed around on social media, it continued to spread through schools and communities. It's difficult to identify how many individuals have been harmed by the DIY braces trend, but thankfully many see the risks and avoid it!
What About DIY Clear Aligners?
Remember the saying "too good to be true"? While on the surface these companies seem like a good option for saving money while correcting your dental alignment, there are major concerns you should be aware of!
The first risk, of course, is in not seeing an orthodontist for orthodontic treatment. Orthodontists are more than just another dentist. Orthodontists go through specialized education and training to identify, plan and correct issues relating to dental and skeletal malocclusion. It requires this level of experience because your teeth and gums are sensitive and require the utmost care.
Their role isn't only in treating issues, but also diagnosing specific issues and following-up to ensure your treatment progresses correctly! Without them, you could make the issues even worse
Secondly, you may be under the impression that these companies are primarily operated by orthodontists and dentists. While this may be true for some cases, it's certainly not for all of them. And you can't guarantee that your DIY clear aligners are being checked by an experienced dentist or orthodontist at all!
What Are the Primary Dangers of DIY Braces?
The crux of orthodontic treatment is to avoid problems associated with misaligned teeth and unhealthy development of your jaw, mouth and teeth. Attempting to correct these issues without oversight from a trained professional will exacerbate issues or create health risks that didn't previously exist:
Increased risk of decay and infection
Permanent damage to your gums
High likelihood of lost permanent teeth
Jaw or bite development issues
Permanent disfigurement to your bone development
These dangers of DIY braces are serious. It's why even orthodontists with years of experience want to constantly check-up on your progress when undergoing treatment. The nuanced adjustments your orthodontist performs are to ensure that treatment improves your overall health.
There Are Dangers with DIY Clear Aligners Too!
While DIY braces created at home pose the greatest risk, DIY clear aligners can be a major health concern too. In addition to the risks listed above, DIY clear aligners ignore several parts of dental health for the sake of just straightening your teeth! But perfectly straight teeth aren't the only benefit of orthodontic treatment.
In fact, orthodontic treatment is much more concerned with your bite and the healthiness of your facial and bone development. While straight teeth are often associated with this, simply using DIY clear aligners to achieve that can put other parts of your dental health at risk.
DIY clear aligners can be associated with increased risk of periodontal disease, shortening of your roots and even bone reabsorption!
It all comes back to the lack of an orthodontist to oversee your treatment. Teeth are easy to move. Anyone can create a 3D-printed aligner that puts enough pressure on your teeth to reposition them. Actual orthodontic treatment is far more than that. Your orthodontist ensures that your teeth move towards the right position, at the right pace and without sacrificing other parts of your dental health.
Are There Any Alternatives to Braces?
One of the most common reasons that teens turn to DIY braces is to avoid the social anxieties associated with traditional metal braces. Remember, metal braces aren't your only option! Pointe Dental Group offers several types of braces that can all treat orthodontic problems – with subtle options to let you continue living with confidence.
Invisalign Clear Aligners
You can correct orthodontic issues almost invisibly with Invisalign aligners. These special clear aligners are uniquely designed for your mouth and gently shift your teeth into their ideal position. While they need to be worn for most of the day, they can also be removed at any time to allow you to drink or eat foods as you please!
Invisalign is an option for nearly all orthodontic patients of any age. In addition to being more aesthetically pleasing, they're also less likely to cause you any irritation!
Our orthodontists are exceptionally experienced with treating patients using Invisalign to help them achieve the smile they want. You can schedule a consultation to learn more!
Esthetic Ceramic Braces
Another type of subtle orthodontic appliance, ceramic braces offer the same reliable effectiveness of traditional metal braces but come in a discreet, natural look. The arches of ceramic braces blend in with your teeth and are practically unnoticeable to passersby.
They resist stains and are excellent options for anyone with minor or severe alignment issues. Just like traditional metal braces, your orthodontist will keep track of your progress and make necessary adjustments to complete your treatment as fast as possible.

Schedule an Appointment Today!
Pointe Dental Group can provide you with a complete examination, answer your questions, and discuss your treatment options. Schedule an appointment with us today! New patients can receive FREE comprehensive exam and consultation, plus a full panoramic x-ray with a paid cleaning procedure (a $200 value)!
Grosse Pointe Farms: (313) 881-2480
Shelby Township: (586) 803-8300
Don't miss a thing! Connect with us on Facebook.