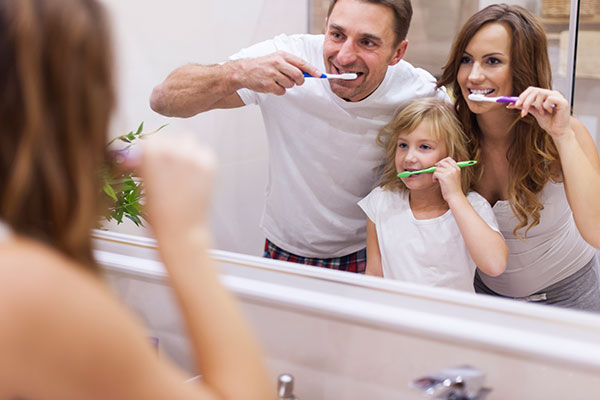 The New Year is here, and that means it's time to decide on your New Year's resolution. The best resolutions aren't major life changes – they're easily achievable goals which can improve your life. This year, why not focus on your dental health? Questions about how to improve oral health are common, so read on to learn our best recommendations and earn a stunning smile this year.
Make Flossing a Part of Your Daily Routine
Very few people floss as frequently as they should. And most of them know it, too. While it may seem like a lot of work, especially after brushing, it's important to floss. Food trapped between your teeth can be far more harmful than the easily-brushed particles on the surfaces. Not only do these particles stays in your mouth longer, they can cause decay in hard to reach places between your teeth.
Food that can only be removed through flossing is one of the most common causes of cavities! Flossing every day keeps these small spaces clean and prevents you from developing long-term decay.
It typically doesn't matter what type of floss you use – as long as you floss every day to clean these hidden surfaces, your overall oral health will improve dramatically. You might even find that your breath is consistently fresher, too!
Improve Your Brushing Habits
We speak with patients all the time that are surprised to discover that, despite brushing every day, they still have cavities or early signs of gum disease. The truth is that they aren't brushing their teeth correctly. In some cases, they don't brush their teeth long enough to adequately clean each surface. Others sometimes brush too hard or too gently.
If you're wondering how to improve your oral health, closely evaluate your brushing habits:
Do you brush for two full minutes?
Do you brush too gently to properly clean your teeth and gums?
Do you brush too hard?
When you brush, do you reach every surface, including the inner surfaces of your teeth?
How often do you brush your tongue?
Don't be embarrassed to speak with your dentist about brushing technique. It's very common to make minor mistakes that could undermine your fastidious dental care routine! You can ask for pointers during your next dental cleaning appointment.
Make Healthier Food Choices
Oral health is more complex than just aftercare. It often starts with the choices you make when you eat or drink. Certain foods can dramatically worsen your teeth or gums:
Sugary Foods & Drinks – These will feed bacteria that live in your mouth and cause them to leave behind harmful waste that causes cavities and gum disease.
Acidic Foods & Drinks – Citrus, sodas and other acidic substances will directly erode your tooth enamel and leave your mouth more susceptible to plaque and cavities.
Avoiding these foods is a great start! But you can do more than skip unhealthy foods – you can start eating foods that positively contribute to your overall health, including the health of your teeth and gums. Foods high in calcium, vitamin C, and vitamin A all promote your dental health. Learn more about healthy foods for your teeth.
Cleaning Your Dentures
If you have dentures, you can still take steps to improve your oral health in 2018. Any tips regarding gum care are especially important for those wearing dentures. Additionally, you'll want to follow the right steps for cleaning your dentures all year long.
Take denture cleaning seriously. They can quickly become a breeding ground for bacteria if left unchecked. Bacteria will spread to your gums and lead to serious gum disease down the road.
Stop Putting Off Braces
It's common for adults and children to shy away from the idea of wearing braces. Despite their significant benefits to your oral health, the stigma associated with braces is strong. If you need them, make this the year you schedule a visit to begin orthodontic treatment.
Whether for yourself or your child, you should know that metal braces aren't the only option. There are a few alternative types of braces that are effective and have their own unique benefits. Especially for adults, clear braces are a popular choice to help subtly straighten your teeth.
Visit the Dentist At least Every 6 Months
As many as 35 percent of Americans skip seeing the dentist every year. It's likely that this plays into the growing cases of gum disease and advanced periodontitis that are affecting the oral health of people across the country.
A hygiene visit and exam is more than just an advanced dental cleaning. Your dentist and hygienist will examine your gums, teeth and jaw for signs of gum disease or other risk factors. They can identify areas of your mouth that may be vulnerable to bacteria. Without a medical professional to spot these risks early, you may not realize your oral health is in trouble until you begin to experience the symptoms of severe disease such as tooth loss.
Have Questions About Improving Your Oral Health? Schedule an Appointment Today!
Pointe Dental Group has experienced dentists in Shelby Township and Grosse Pointe Farms who can provide you with a complete examination, answer your questions, and discuss your treatment options. Schedule an appointment with us today! New patients can receive FREE comprehensive exam and consultation, plus a full panoramic x-ray with a paid cleaning procedure (a $200 value)!
Grosse Pointe Farms: (313) 881-2480
Shelby Township: (586) 803-8300

Don't miss a thing! Connect with us on Facebook