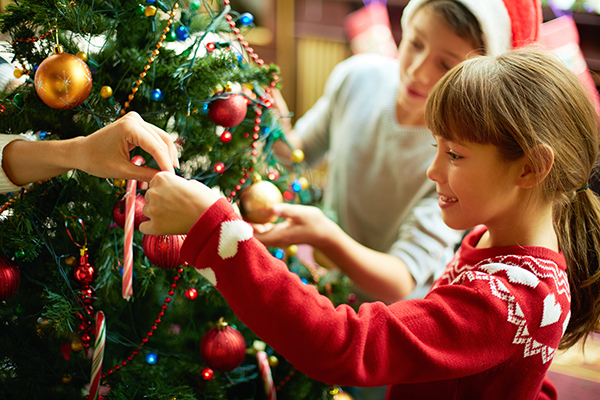 Are you looking for the most fun holiday events near Grosse Pointe & Shelby Township this year? We can help you find them! With all the exciting parties and celebrations going on around the Metro-Detroit area, there's plenty of holiday cheer to be had by all.
Read on to learn about some family-friendly events, and some dental tips to help you keep your smile cavity-free for the New Year!
2018 Holiday Events near Grosse Pointe, MI
Looking for a musical holiday experience? Then you won't want to miss Miracle on Union Square, presented by Brightmoor Christian Church! This Broadway-style musical is based in a fictional town in Michigan on Christmas Eve, 1947 as the community discovers the true meaning of Christmas.
Get tickets soon, some of the shows are already sold out!
Enjoy our very own version of The Polar Express! You'll get to listen to a reading of The Polar Express while joyriding on the train through the Pointes to see stunning holiday lights and displays. There will be treats and cocoa at the final stop!
A true holiday experience! Revel in the spirit with caroling, sleigh bells and traditional yuletide fun. The doors will be open at local, historical homes for tours, all decorated for the season.
You won't want to miss the finale – each night is closed with a dazzling display of fireworks.
Your child can meet Santa! Every Saturday this month, Santa will be in Santa's Village located in The Village. Visits are free, and you're welcome to take photos.
Children can also make holiday cards for pediatric patients at St. John Hospital, in addition to donating arts, crafts, toys and more.
2018 Holiday Events near Shelby Township, MI
Get a cup of hot chocolate and settle in for some traditional fun! A Pioneer Christmas is hosted at the Burgess Shadbush Nature Center and has fun for children and adults. Celebrate like the early pioneers, with time-appropriate decorations – and you'll get to make some of your own decorations, too!
Listen to your favorite holiday stories and join along to sing classic holiday songs at the Shelby Township library. Mrs. Claus will lead stories and caroling by the beautifully-decorated Christmas tree. Make sure your phone is charged – Mrs. Claus is available for photos to let you snap some holiday memories!
Not worried about snow or chilly weather? Then Jingle Bell Run might be  perfect for you! Take part in this charity 5K, supporting benefits like Trinity Community Care and Wounded Warriors. Don't forget to dress warm!
Does your child have their holiday wish list all written down? The only thing left is to meet Jolly Saint Nick himself! Santa will be at the Nature Center with Mrs. Claus, handing out treats, taking photos and spreading holiday cheer.
Tips for Holiday Dental Care
If you're going to be enjoying all the great holiday events near Grosse Pointe & Shelby Township, you'll want to make sure your smile stays white as fresh snow! We have some tips to keep your teeth and gums healthy through the holidays:
All Things in Moderation – Hot cocoa, juices and cookies are staples of holiday celebrations. Make sure not to overindulge on sugary foods or drinks! Those sugars will feed bacteria in your mouth, leading to cavities or gum disease.
Avoid Sticky Holiday Treats – Sticky candies or fruit cakes can leave hard-to-remove residue on your teeth. This residue will sit and cause your enamel to wear away all day.
Brush Before & After Events – The holidays are exciting, but that's no excuse to skip out on basic dental care routines. Keep up with your daily brushing, twice a day for two minutes. Be sure to greet Christmas morning with a smile as bright as the star on your tree!


Happy Holidays from Pointe Dental Group
Pointe Dental Group wishes you and your family a wonderful holiday season!
Get your brightest, most beautiful smile in the new year by scheduling an appointment with us today! New patients can receive FREE comprehensive exam and consultation, plus a full panoramic x-ray with a paid cleaning procedure (a $200 value)!
Grosse Pointe Farms: (313) 881-2480
Shelby Township: (586) 803-8300
Don't miss a thing! Connect with us on Facebook!