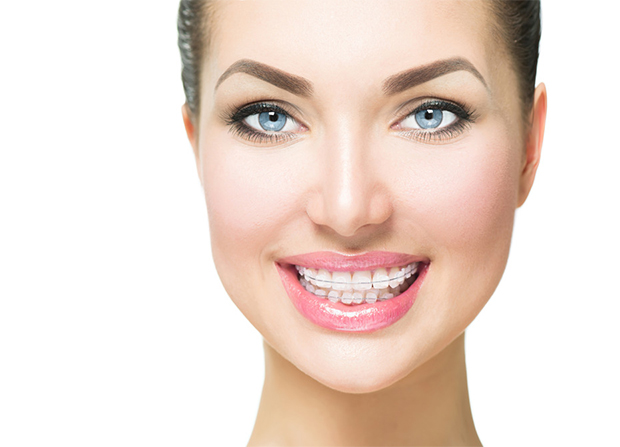 Braces – they're certainly not just for kids. In the United States alone, more than 1 million people over the age of 18 are adding braces to their smile, and that number grows by the day. Why? Some have serious orthodontic issues – such as over or under bites, incorrect jaw positioning, or jaw joint disorders – that were never addressed when they were young. Left untreated, these orthodontic problems may have developed into other problems, like tooth decay, gum disease, headaches and earaches, as well as speaking or chewing problems.
Still others have slight gaps or misalignments that they have always been a little self-conscious about, but not enough to warrant a set of braces. Often encouraged by an upcoming event such as a wedding or class reunion, they're seeking a way to get their smile photo ready.
Whatever your need or motivation, there are orthodontic treatment options that fit almost any adult lifestyle. Read on for Pointe Dental Group's guide to currently available treatments. Use it – along with advice from your orthodontist – to help decide which treatment is right for you.
Clear Aligners
Clear aligners – most notably, Invisalign – have opened up a whole new world of orthodontic treatment. The nearly-invisible look of clear aligners has made them an extremely popular option, especially with adults. The trays are transparent, and even if you need additional alignment aids – such as attachments, which are "bumps" of dental bonding material – they blend in with the natural color of the tooth. In addition, Invisalign trays do not interfere with eating or speaking, and they're less likely to irritate soft tissue surrounding the teeth.
What's involved? Clear aligner treatment typically consists of a series of 18 to 30 custom-made, mouth-guard-like clear plastic aligners. The aligners are removable, but are meant to be worn 22-24 hours a day and replaced every 2 weeks. Average cost for a set of clear aligners is $5,000, and the length of treatment averages 6-18 months.
Who is a good candidate? Patients with relatively mild cases of crooked teeth, protruding teeth, gaps, or over/under bite issues are good candidates for clear aligners. In some cases, they can reduce or eliminate nighttime bruxism, or tooth grinding. Also, if you participate in contact sports, clear aligners are a better choice over traditional braces that may be damaged by impact.
Who should consider a different option? Clear aligners aren't a good match for patients who need extensive orthodontic treatment, who need canines or premolars rotated, have back-tooth bite issues, or who need teeth realigned vertically. In addition, if you think you may lack the discipline to wear your tray 22 hours a day, you should opt for a different type of orthodontic treatment.
Traditional Metal Braces
Sometimes, the traditional approach is still the best – even when it comes to orthodontics for adults. Traditional metal braces are often the best type orthodontic option, especially for patients with complex tooth alignment issues.
What's involved? Traditional braces are a system of brackets bonded directly to the front of the teeth. The brackets act like handles, holding "arch wires" that move the teeth. The brackets are often connected with a system of bands, spacers, springs, and other mechanical appliances to gradually move and align the teeth. The length of treatment differs from patient to patient, but on average, the desired results can be reached in two years.
Who is a good candidate? Metal braces are a good choice for candidates who need extensive dental alignments or who don't have the discipline to wear orthodontic trays for 22 hours a day. Traditional braces also work with patients who have back-tooth bite issues, need to rotate canines or premolars, or move teeth vertically.
Patients who want the maximum results in the minimum amount of time might consider traditional metal braces. They work faster at closing gaps and aligning teeth than of clear aligners. Additionally, they tend to be the most affordable type of orthodontic treatment option; stainless steel braces usually cost between $3,000 and $7,000.
Who should consider a different option? If you enjoy playing contact sports, traditional metal braces are not for you. They're not designed to withstand impact, and repairing the damage caused by a hit, fall, or ball to the face can involve significant repairs and cost.
Esthetic Clear Braces
Esthetic clear braces pack all the tooth-alignment power of traditional braces, but with a more discreet, understated look. Commonly known as ceramic dental braces or tooth-colored dental braces, esthetic clear braces are the same size and shape as metal braces, but they have tooth-colored or clear brackets that blend in with your teeth.
Who is a good candidate? Any patient who would benefit from wearing traditional metal braces would be a good candidate for esthetic clear braces. These appliances work with simple or complex tooth alignment issues. The treatment time varies based on the patient's individual needs, but average time to achieve the desired results is two years.
Who should consider a different option? Just like with traditional metal braces, if you enjoy playing in contact sports, esthetic clear braces are not for you. They can break or chip, making them even more delicate than traditional metal braces. Also, they're at the higher end of the orthodontic cost scale (expect to pay $4,000 to $8,000 for treatment), making them not as budget-friendly as some other alternatives.
Lingual Braces
Lingual braces are braces that are positioned behind the teeth instead of in front of them. They offer the power and treatment speed of traditional metal or esthetic clear braces, but are nearly invisible without close inspection.
What's involved? Lingual braces are custom created for each patient, so having a set made and installed can be a lengthy process. First, an impression is made of the patient's teeth, which is then sent to a dental laboratory and used to create customized brackets. Creating the braces takes about six weeks. Once complete, an orthodontist will use a specific process to cement the braces onto the back surfaces of your teeth.
Like traditional braces, lingual braces work by applying gentle yet continuous pressure on the teeth to slowly guide them into proper position. The treatment can take anywhere from 18-36 months, depending on the severity of a patient's overcrowding of teeth or their bite.
Who is a good candidate? Anyone who would benefit from traditional braces, but doesn't want to sport the look, would be a good candidate for lingual braces. (Note that not all orthodontists offer lingual braces. Check with your orthodontist to see if they offer this treatment.)
Who should consider a different option? Because of the special process of creating and fitting lingual braces, this treatment tends to be at the top of the orthodontic-treatment price range ($8,000 to $10,000). Also, lingual braces can impair speech and cause tongue irritation, so patients who do a great deal of speaking might want to look at other orthodontic treatments.
Which is Right for You?
Each orthodontic treatment has its pros and cons. To determine which is best for your unique situation, we encourage you to schedule a consultation with our experienced orthodontists. We have two convenient locations standing by to serve you. Call today to get started!
We are proud of our commitment to our patients and our ability to produce beautiful, healthy smiles in a caring, patient-oriented environment. If you would like to learn more about your options, you can request a consultation online or give us a call at one of our two orthodontic locations in Michigan:
Grosse Pointe Farms: (313) 881-2480 | Shelby Township: (586) 803-8300

Questions About Orthodontics for Adults? We have Answers!
For more information about orthodontics and braces, please check out the following resources:
Don't Miss a Thing! Connect with us on Facebook!