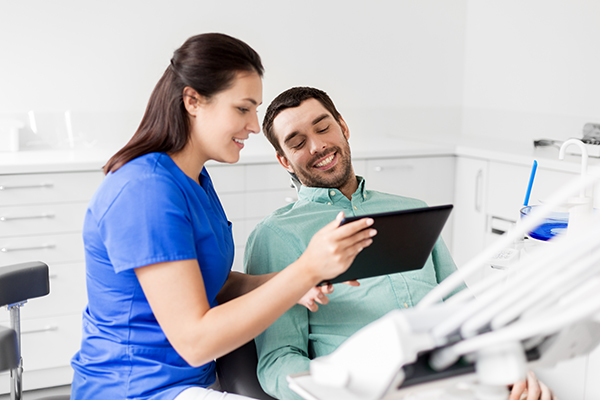 Poor dental care can lead to long-term health issues like gingivitis. While gingivitis is often simple to counteract, it can quickly advance into periodontal disease if left unchecked. This advanced form of gum disease requires more serious periodontal disease treatment options to restore your oral health.
Read on to learn the symptoms of periodontal disease and what Pointe Dental Group can do to treat it.
Symptoms of Periodontal Disease
There are several symptoms associated with periodontal disease. When it begins to develop, these symptoms can appear subtly or not at all. As it progresses, the symptoms will worsen and leave your mouth vulnerable to additional harm.
Bad Breath – Bacteria that causes inflammation also causes foul odors that affect your breath.
Shrinking Gums – Receding gums is a side-effect of bone breaking down and the gums separating from your teeth. This symptom often is noticed when you see that your teeth appear larger.
Tooth Sensitivity – Unlike cavities that can be triggered by extreme temperatures, sensitivity from advanced gum disease can be even easier to trigger.
Red Swollen Gums – Inflammation causes your gums to swell and appear a darker red than the natural pinkish hue.
Loose Teeth/Shifting Teeth – Weakened bone in your mouth compromises your teeth's placement in your mouth. They may begin to shift around or become loose, ultimately leading to lost teeth.
Periodontal Disease Treatment Options
Periodontal disease treatment involves different steps depending on the severity and symptoms of your individual case.
Scaling
This basic form of gum disease treatment helps remove the offending plaque and bacteria to reduce future inflammation and help begin the healing process. Scaling involves your dentist or hygienist physically removing tartar and plaque with specialized tools.
During the scaling process, they will clean all the way to the gum to remove as much plaque as possible.
Root Planing
Gum separation is one dangerous symptom of periodontal disease. Root planing helps counteract it. By smoothing the root surfaces of the teeth, the gum tissue's ability to heal and reattach is improved.
This also helps to reduce pockets in your teeth at the gumline. Bacteria in these places are particularly dangerous. They will cause decay and damage to your teeth at the root where they're vulnerable, and it can take months before the damage is noticed if not examined under the trained eye of a dentist.
Laser Gum Disease Treatment
One new approach for periodontal disease treatment is using laser technology. This minimally-invasive treatment is safe and effective. The results of laser gum disease treatment are improved when combined with scaling and root planing, too!
The biggest benefit for patients with laser treatment is that it's quick. While traditional surgery can require several visits, laser gum therapy can take just one to two visits.
Periodontal Surgery
If the initial periodontal disease treatment options aren't enough to stop the progression of symptoms, you may be recommended to consider surgical options.
Pointe Dental Group offers several periodontal treatment options involving surgery for serious cases of gum disease. These can attack specific symptoms and effects of the disease, with solutions like pocket reduction surgery.
Other surgical options involve removing teeth and replacing them with dental implants if it's unlikely that the teeth can ever recover from the damage wrought from the bacterial infection.
Additionally, both bone or soft-tissue can be grated to help restore integrity to the affected areas of your mouth. These grafts not only restore damage done by periodontal disease, they help prevent future damage.
Pointe Dental Group's Periodontist
As a multi-specialty dental care provider, Pointe Dental Group has a periodontist on staff who is available to identify and treat potential periodontal issues. Dr. Whitney Weiner's extensive knowledge on gum inflammation and topics related to periodontal care have been nationally recognized.
Do You Need Periodontal Disease Treatment? Schedule a Consultation!


Pointe Dental Group can provide you with a complete examination, answer your questions, and discuss your treatment options. Schedule an appointment with us today! New patients can receive FREE comprehensive exam and consultation, plus a full panoramic x-ray with a paid cleaning procedure (a $200 value)!
Grosse Pointe Farms: (313) 881-2480
Shelby Township: (586) 803-8300
Don't miss a thing! Connect with us on Facebook.